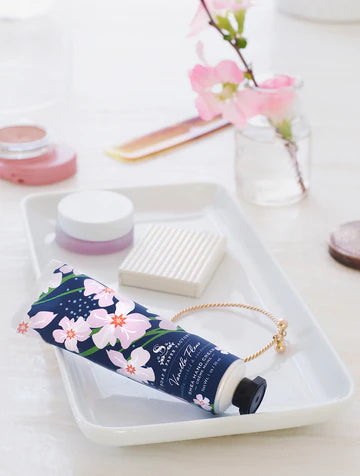 Vanilla Fleur Petite Shea Butter Hand Cream
Deep, sultry notes of Sandalwood, Orchid & Vanilla bean create our beloved Vanilla Fleur. If you loved Bourbon Vanilla, Madagascar Vanilla, and Santal Vanilla, this is your fragrance!  It's got all new packaging and it's available all year long!  
Rich in vitamins and minerals, our hydrating blend keeps your skin soft, and protects against the elements. Our hand creams glide on silky smooth, and always leave your skin feeling fabulously moisturized, and lovingly fragrant. This petite, on-the-go size is great for travel, your purse and in the car!  
All of our hand creams are free from parabens, phthalates, petrochemicals and dyes. They are Vegan, NEVER tested on animals, and packed with pure Shea Butter. Oh, and they are made in the USA, in small batches! 
**You may see some color variation as our cream actually contains real Vanilla, we don't use any chemicals to stop this process.  It's natural!