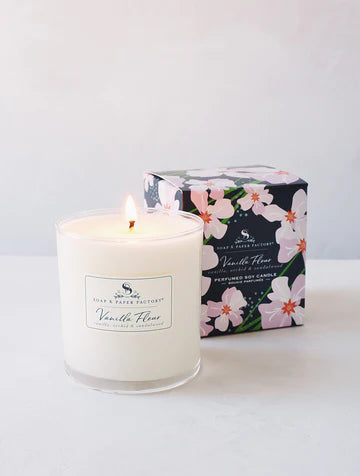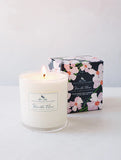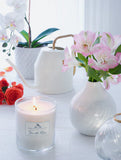 Vanilla Fleur Large Soy Candle
Light this pretty soy candle and relax. Inhale deeply and find your center as the beautiful scents of Vanilla, Orchid and Sandalwood fill the room. Vanilla Fleur's fragrance is earthy and warming, let the fragrance transport you to your happy place. You deserve it.
Trim wick to 1/4 inch before each lighting. For best results, burn 4 hours at a time. Allow to cool before relighting.
Vanilla Fleur Large Soy Candle is made with pure soy wax (sourced here in the USA), and a cotton wick. It is free from parabens, phthalates, petrochemicals and dyes.  This gorgeous soy candle is vegan, never tested on animals and made in the USA!
Note: This product may change color due to naturally occurring tannins in Vanilla oil. 
PS. This is the same fragrance used in Madagascar Vanilla, Winter Vanilla, Creamy Vanilla and Bourbon Vanilla; we decided to give it a permanent assortment to be loved all year long!