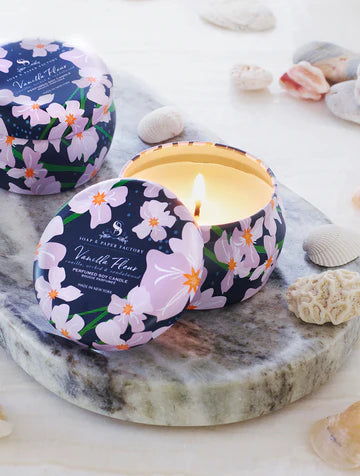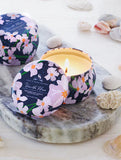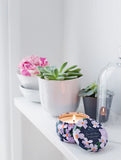 Vanilla Fleur Small Tin Soy Candle
We love this gorgeous candle! Our Vanilla Fleur is loaded with Sandalwood, Orchid and Vanilla Bean, making it a really extraordinary Vanilla.  It's super relaxing and sultry, not to mention the absolutely superb packaging!  The navy?  The flouncy flowers? It's beyond chic and great for travel. We love the splash of color, have you ever seen a cuter candle?
Trim wick to 1/4 inch before each lighting. For best results, burn 4 hours at a time. Allow to cool before relighting.
Vanilla Fleur Tin Soy Candle is made with pure soy wax (sourced here in the USA), and cotton wick. It is free from parabens, phthalates, petrochemicals and dyes. This gorgeous soy candle is vegan, never tested on animals and made in the USA!
3 OZ